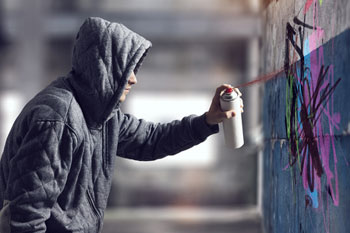 Local authority leaders have defended their record of dealing with anti-social behaviour after a report argues that victims are being 'let down' by councils and the police.
A report by Baroness Newlove, the Victims' Commissioner for England & Wales, said that police and council staff sometimes failed to appreciate the cumulative impact of persistent anti-social behaviour on its victims.
It warned that incidents were being treated in isolation and the underlying causes were being ignored.
Baroness Newlove found evidence of a culture of playing-down anti-social behaviour as being 'low-level'. This, she argued, led to a failure to recognise the impact it was having on its victims.
Anti-social behaviour is typically characterised as unacceptable conduct that causes harassment, alarm or distress to an individual or their community. It is often symptomatic of more serious behaviour involving crime.
The latest figures from the Crime Survey for England and Wales show 37% of people have personally experienced or witnessed anti-social behaviour in their community.
The commissioner's report also found examples of the police, local authorities and community agencies, such as social housing landlords, passing victims between them, giving the impression they were not listening.
Many police forces, councils and Police and Crime Commissioners also make no reference to the statutory Community Trigger mechanism used to resolve anti-social behaviour on their websites.
'ASB [anti-social behaviour] is often downplayed as a petty, "low-level" crime,' said Baroness Newlove.
'But put yourself in their shoes – to suffer from ASB is an ordeal that causes misery, disturbs sleep, anxiety, work and relationships – leaving victims feeling unsafe and afraid in their own homes. It can feel like you are living a nightmare.
'I want this report to be a catalyst for change. I strongly believe if we crack down on ASB, empower victims by informing them of their rights and give powers to police, councils and housing providers to investigate and take rigorous action, it can reduce ASB and stop it spiralling into violence and worse.'
In response to the report, a spokesperson for the Local Government Association said that councils took complaints about anti-social behaviour 'seriously', but did not have to funds to take effective action.
'Councils know people look to them to tackle the anti-social behaviour which can make a law-abiding resident's life hell or blight an entire neighbourhood,' the spokesperson said.
'It's a role they take extremely seriously but one which is being made increasingly challenging as a result of losing 60p out of every £1 they had from government to spend on services in the past decade.
'Councils and partner agencies take residents' complaints seriously and communicate with each other to ensure that where action is required this happens quickly and effectively.'
'The LGA will be working with councils to consider the findings of this report carefully,' they added.