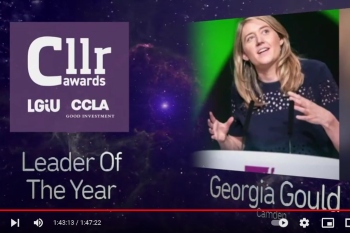 Camden Council's leader, Cllr Georgia Gould, has won Leader of the Year at this year's 2021 Cllr Awards.
Organised by Local Government Information Unit (LGIU) and CCLA, the awards ceremony celebrates the contributions of local councillors across England and Wales.
While Cllr Gould was named Leader of the Year, Cllr Amy Heley of Brighton and Hove City Council walked away with the Young Councillor of the Year prize and Cllr Paulette Hamilton of Birmingham City Council claimed the Resilience and Recovery Award, a new category for 2021.
Cllr Kevin Etheridge of Caerphilly County Borough Council was honoured with the Community Champion Award and Cllr Sheila Peacock of Haringey Council was awarded a Lifetime Achievement Award for her service.
'We are incredibly proud to unveil the winners of this year's Cllr Awards. These councillors showcase the best of local government across England and Wales,' said Jonathan Carr-West, chief executive, LGIU.
'During a time when our communities have experienced unprecedented challenges and pressures, these councillors are paving the way towards recovery.
'I would like to extend a huge congratulations to all of tonight's Cllr Awards winners. We thank you for your service and look forward to hearing about your continued accomplishments in the future.'
Kelly Watson, relationship manager for local government, CCLA, said: 'This is a fantastic opportunity to recognise and honour those leading across local government. Local government has delivered in so many ways for communities across the country and we are honoured to stand alongside them.
'The hard work done by councillors and council leaders behind the scenes hardly ever reaches the public eye. This is an opportunity for us to set aside a small amount of time to celebrate those achievements.'