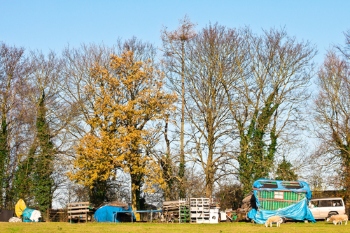 Cheshire East Council has won a planning appeal in the case of an unauthorised caravan site set up on green belt land.
The appeal was brought by the owner of the Mobberley site, following enforcement action by the council and a subsequent planning inquiry.
The owner argued there were special circumstances to justify the development, including the need for Gypsy and Traveller sites.
Cheshire East Council argued it represented a material change of use of green belt land, in breach of national and local planning policy and did not have planning permission.
In his report, planning inspector Roy Merrett, concluded: '…the development, both as existing and proposed, results in significant visual harm to the character and appearance of the countryside.'
He also rejected the appeal on the grounds of aircraft noise, due to its proximity to Manchester Airport. He said that the noise could have long-term health impacts on the families and their children living in caravans with no sound insulation.
Cllr Mick Warren, Cheshire East Council chair of environment and communities committee, said: 'This has been a difficult site for the council and local residents but it is good to see that the inspector has supported the council's approach to protect the borough's green belt, and our communities, from unauthorised development.
'The council is pressing ahead with its plans for an official Gypsy and Traveller site in the borough and we hope that this will, at least, provide some scope for the traveller community to have a place to stay, albeit on a temporary basis.'
The owner is required to remove all caravans and motorhomes, vehicles, plant, machinery, toilet blocks and septic tanks and to stop using the land as a residential caravan site. He must also remove gates and fencing, all services to the site and restore the land with seeded topsoil after removing all the hardstanding area.