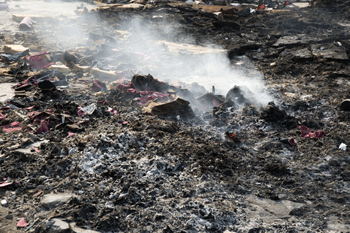 The amount of waste managed by local authorities and sent to incinerators has doubled in less than a decade, a new report reveals.
A study by the Green Party has found England will burn more than it recycles by the end of the next financial year 2018/19.
The report's author, Baroness Jenny Jones, warned that recycling rates have 'almost flat-lined' at just over 11 million tonnes, while incineration has grown from 5.5 million tonnes in 2012/13 to over 10 million in 2016/17.
Entitled A Burning Problem: how incineration is stopping recycling, the report noted three regions — London, the West Midlands and the North East — are already burning more than they recycle.
'There is a logic to generating energy from the waste that we cannot recycle, or reuse, but it is meant to be the last resort option,' said Baroness Jones.
'What we have created instead is a market driven system of incinerators which constantly need to be fed.
'Many councils have signed up to long term contracts with incinerators and my research shows that these have some of the worst recycling rates in the country.
'In fact, many of these councils have gone backwards and recycle proportionately less than they did six years ago.'
'Burning waste is bad for climate change and there are fears over the health impacts of incinerators because of the weaknesses of their air pollution monitoring systems,' she continued.
'However, it is the sheer waste of burning a valuable resource which annoys me most. Incinerators are the ash producing products of our make, break and throw away culture.'