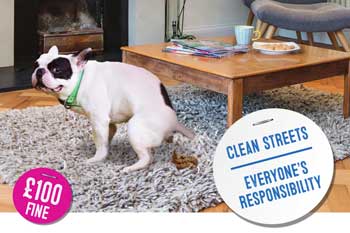 A council has unveiled shocking new posters showing a man urinating in his fireplace and a dog pooing on a living-room floor in a bid to combat street mess.
They are being introduced as part of Kingston Council's new campaign to cut down on 'nasty' street activities and raise pride in the borough.
The local authority is appealing to its residents to 'play their part' by cleaning up their pet's droppings, refraining from peeing in the street and putting litter, cigarette butts and chewing gum in the bin.
It has already issued over 400 on-the-spot fines to people caught littering or not clearing up their dog mess since the introduction of fixed penalty notices in June.
Central to the campaign are a set of four posters envisioning a host of stomach-churning things occurring in a living room, with the tagline: 'You wouldn't do this at home'.
Kingston spends around £2m a year cleaning up litter, dog fouling and other mess in the borough.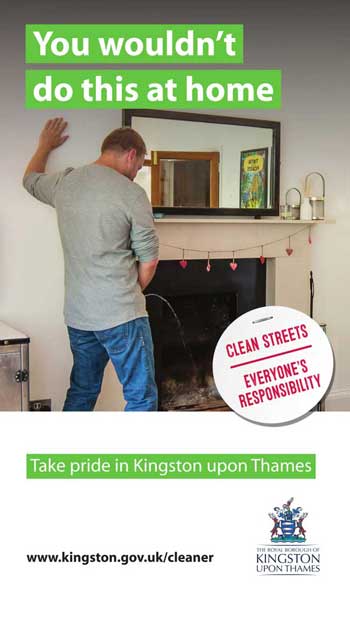 Cllr Terry Paton, cabinet member for resident services at Kingston Council, said: 'The concept of this campaign is a simple one – if we all pull together we will save public money and we will have a cleaner borough. I know the majority of people are not malicious when they litter or allow their dogs to foul – but they are sometimes being thoughtless.
'So this campaign is simply asking everyone to think before they do something nasty, take pride in our fantastic borough and if everyone can do that then we will all win.
'We know that most people already do the right thing. For those of you who occasionally do not, this campaign should make you think twice.'