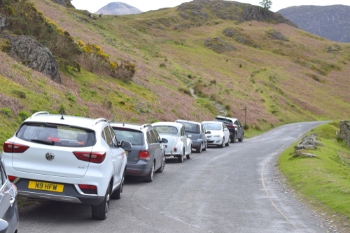 Cumbria County Council is introducing an emergency traffic regulation to prevent vehicles from causing traffic jams in the Lake District.
Issued yesterday, the temporary order will prohibit any vehicle to wait on a select number of roads in South Lakeland at any time, on any day and to load / unload at any time, on any day, including blue badge holders.
Cllr Keith Little, Cumbria County Council's cabinet member for Highways and Transport, said: 'There have been a number of issues on these routes in recent years, and our first priority must be public safety and ensuring our road network is safe, reliable and accessible for local people and for tourists visiting this beautiful area.
'It is vital that we are able to identify solutions that ensure the accessibility of bus services and emergency vehicles, as well as promoting sustainable travel by prohibiting vehicles from parking on roadsides and causing mayhem for other road users.
'I am hopeful that these measures will result in a much-improved travel experience, whilst ensuring access for emergency vehicles and so that important bus services are able to run on time, and without obstruction.'