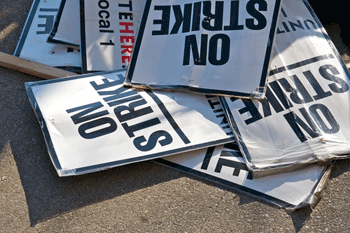 Council staff will tomorrow take part in an official day of protest as part of ongoing campaigns for fair pay and funding.
Describing the current state of local government pay as 'disastrous', trade union Unison said local government staff had faced a 'devastating' three year pay freeze followed by a 'miserly' 1% increase last year.
According to the union, this represents an 18% fall in pay in real terms - falling back to the level of the 1990s.
More than half a million local government staff earn less than the Living Wage - £8.80 in London and £7.65 in the rest of the country – while a million sit below the Coalition's 'low pay' threshold of £21,000.
Unsion, GMB and Unite - which represent 1.6m local government staff – are calling for a £1.20 minimum hourly increase to bring the bottom rate of council pay in line with the Living Wage and restore pay lost by high earners.
Unison's head of local government, Heather Wakefield, said: 'It is deeply disturbing to hear the continuing stories of local government workers resorting to food banks. These workers have suffered an 18% drop in earnings since the Government's austerity measures were introduced, which is why we want the same flat rate increase to be applied to everyone.
'More than 75% of the workforce are women, whose contribution has been consistently undervalued. This pay increase should be part of a new gender agenda to give our members the recognition they deserve in their pay packets.
'Our members in local government have shown their commitment to keeping our local services going against all odds, and we now need a commitment from the government and the Local Government Employers to finally make us a decent pay offer. More than half of the cost would be recouped through increased tax and National Insurance take, so it is affordable.'
Unions formally submitted their pay claim to employers in November, with responses expected later this month.