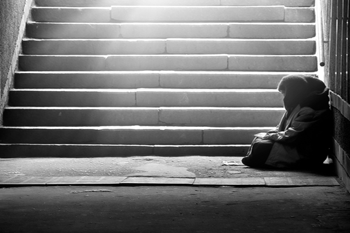 Councils have called on the Government to provide more help to tackle homelessness, following new figures showing a huge drop in the amount they spend dealing with it.
A report by homelessness charities St Mungo's and Homeless Link found local authority spending on single homeless people fell by £1bn in the 10 years up to 2018, a 53% drop.
The charities said the Government's manifesto commitment of ending rough sleeping by 2027 will be missed unless it provides more cash in this year's Spending Review.
Howard Sinclair, chief executive of St Mungo's, said: 'The human cost of these cuts is all too real. The people we work with – many struggling with poor mental health, substance use or domestic violence – are often being left with no option but to sleep rough.'
Local Government Association housing spokesman Martin Tett said between 2010 and 2020 councils had lost almost 60% of central Government funding to spend on services and faced a funding gap of £421m on homelessness services by 2024/25.
He said: 'Councils want to end homelessness by preventing it happening in the first place, but are currently housing more than 200,000 homeless people, many of them children, in temporary accommodation.
'Councils spent nearly £1bn supporting families into temporary accommodation in 2017/18 alone, up £145m from 2015/16.
'This is bad for families and unsustainable for councils, which as a result have less funding to invest in preventing homelessness for everyone.
'The Government's Rough Sleeping Strategy provides some helpful support, but more needs to be done to prevent homelessness happening in the first place.
'To achieve this, the Government needs to use its upcoming Spending Review to reform the welfare system, free councils to build more social homes, and sustainably fund them to deliver homelessness services.'