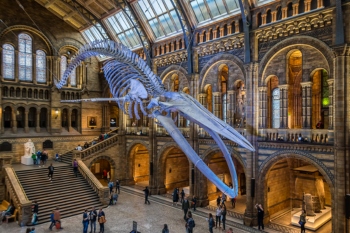 Local authority spending on museums and galleries has fallen by 27% in the past decade, new analysis has found.
A report by the Museums Association reveals that across the UK spending fell from £426m to £311m between 2009/10 and 2019/20.
England saw the biggest drop at 34% in real terms, while Scotland saw spending fall by the least at 23%.
The report warns the cuts to funding are having a material impact on the ability of museums to maintain basic levels of service.
Sharon Heal, director of the Museums Association, said: 'This independent research lays bare the debilitating reduction in funding that local museums have suffered over the past 10 years. These museums provide a vital community service, and in some towns and cities they are amongst the few civic spaces that are open and welcoming to all.
'We know that local authorities are under enormous pressure to provide statutory services, despite sustained cuts to their budgets, which often means that museums lose out.'
The Museums Association is calling for the Government to take a strategic approach to investment in local museums and develop new ways to support revenue funding for local museums.
It also wants the Museums and Galleries Exhibitions Tax Relief to be made permanent and for local authorities to help museums work with partner organisations in their communities.
Cllr Gerald Vernon-Jackson, chair of the LGA's Culture, Tourism and Sport Board, commented: 'Funding for museums and other cultural services has been affected in recent years by rising pressure on council budgets and growing demand for statutory services like social care, as well as the impact of the COVID-19 pandemic.
'Councils need a fair and sustainable funding settlement in the upcoming Spending Review to ensure they can continue to fund these essential community services and deliver against the Government's plans for Levelling Up.'
Photo: elRoce / Shutterstock.com