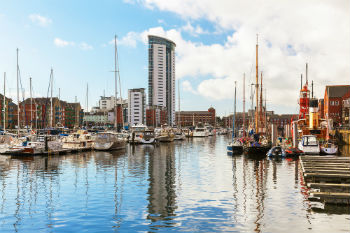 Neath Port Talbot Council has announced that it will be 'significantly' changing its approach to the Swansea Bay city deal after reviews found progress was 'unduly slow'.
The £1.3bn city deal for the Swansea Bay region, which brings together Swansea, Carmarthenshire, Neath Port Talbot and Pembrokeshire councils, was expected to create 10,000 new jobs over the next 15 years.
However, two recent reviews of the city deal – one by the Government, the other a Joint Committee Internal Review – found that progress had been 'unduly slow' compared to other deals.
There were also concerns over transparency and trust.
Neath Port Talbot Council leader Rob Jones yesterday said that in light of these reports, a 'different approach' was 'essential to securing real progress'.
'We are therefore proposing a different package of projects in Neath Port Talbot which will be put to the cabinet as soon as possible for final approval and then to the City Deal Joint Committee,' he said.
'This builds upon the strengths of some existing projects; but also includes new elements.'
Cllr Anthony Taylor, deputy leader of the council added: 'The Council still believes that there is great potential in the City Deal for all parts of the region, including our Valleys; but the two reviews identified that progress and delivery has, so far, been too slow.
'There are a number of reasons for this but we must now aim for clear and rapid progress so that people in Neath Port Talbot can begin to see the tangible difference it can make to our local economy.'