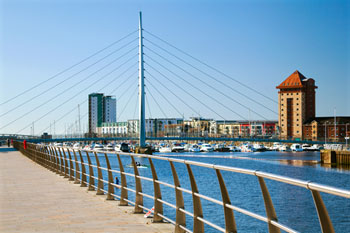 The Welsh government today announced a landmark £1.3bn city deal for the Swansea Bay region in a move expected to create nearly 10,000 new jobs.
The first minister Carwyn Jones made the announcement as the prime minister began her tour of the devolved nations ahead of triggering Article 50 with a visit to Cardiff.
The Swansea Bay City Region deal - backed by £125.4m of Welsh government funding - brings together Swansea, Carmarthenshire, Neath Port Talbot and Pembrokeshire councils.
It includes £115.6m of UK Government funding, £396m of other public sector money and £637m private sector investment, and is expected to create 10,000 new jobs over the next 15 years.
'We have pushed long and hard for this city deal to be signed and have given it our strongest possible backing with £125m of Welsh government investment,' said Mr Jones.
'This is a package which will deliver jobs and economic growth for all of South West Wales, with clear benefits for all the areas involved.
'Today's announcement is a transformative deal that will drive the regional economy in a new direction, supported by high-quality jobs and a digital infrastructure.'
'This again shows the viability of city deals for different parts of Wales and we want to see this replicated in North Wales,' he continued.
'We welcome the UK Government's commitment in the recent budget to the North Wales Growth Deal and will be pressing ahead with discussions on proposals.'
As part of the city deal, eleven major projects are planned across the region in energy, smart manufacturing, innovation and life science.
Cabinet secretary for finance and local government Mark Drakeford said: 'It has taken a lot of hard work to get us to this point but each of these 11 major projects have both the financial backing and potential to deliver for the people of South West Wales, creating high-quality jobs and opportunities that we need to see right across the country.'
Mrs May, who joined the first minister at a signing ceremony for the deal in Swansea, also welcomed the deal as 'a great example of what can be achieved when the UK Government, the Welsh government and local authorities work together to secure a deal that benefits the city and the whole of Wales.'
'The Swansea Bay Region city deal shows just what can be achieved when government and the private sector come together and find local solutions that can bring lasting benefits to an area,' added Alun Cairns, secretary of state for Wales.
'The city deal will build on the strengths of the region and the opportunities available, helping Swansea compete with some of the world's best cities through exciting digital technology.'