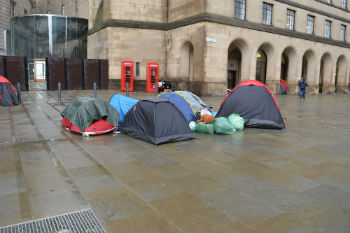 Stoke-on-Trent City Council has decided to scrap plans to fine homeless people £1,000 if they were found sleeping in tents.
The council published a consultation which outlined a number of measures designed to curb anti-social behaviour, such as aggressive begging and drinking.
The plans for a Public Space Protection Order (PSPO) stated that anyone found to be 'assembling, erecting, occupying or using a tent' in an unauthorised area could be fined up to £1,000.
The council has apologised and decided to drop the proposed fine because of the 'strength of response' to the consultation.
'We have listened to the strength of response and will no longer be including the proposal to fine someone for erecting a tent within the Public Space Protection Order area in the city centre,' said Cllr Randy Conteh, cabinet member for housing, communities and safer city.
'This option should not have been included and we apologise for any distress this has caused.'
Image: Ashley van Dyck / Shutterstock.com.