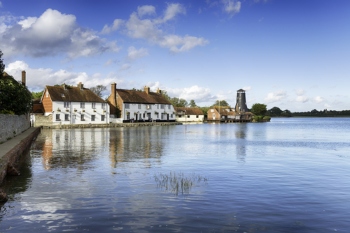 Havant Borough Council has been able to lift the block on housing development in the area following analysis into nutrient neutrality.
In April, Natural England told 42 local authorities to halt residential development until they could prove that new homes in protected sites do not cause nutrient pollution in water courses.
The council has now analysed the nutrient loads at Warblington Farm Nature Reserve to ensure the nutrient loads from new housing could be effectively offset. As a result, it has been able to lift the pause on residential development in the borough.
However, the council warned the unannounced changes had caused 'unwanted and unnecessary pressure' and would be looking how to work with Natural England to avoid this in the future.
Cllr Alex Rennie, leader of Havant Borough Council, said: 'I'm delighted to see that the block to housing development in the borough has been removed, and grateful to council officers for their considerable work to achieve this goal.
'The impact of the unannounced changes by Natural England created unwanted and unnecessary pressure on the council, developers and residents alike. I look forward to more open dialogues in the future with Natural England to ensure we can develop housing in an effective and environmentally-aware manner.'
Research by the Home Builders Federation has previously revealed up to 100,000 new homes are being delayed due to these new regulations.