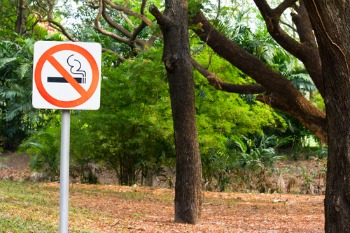 Derbyshire residents could soon be asked to decide on whether they want more smoke-free places in their county as the council explores ways of reducing smoking.
County council cabinet members will meet next week to discuss plans to canvass people's opinions around creating additional smoke free zones in places such as playgrounds and around primary school gates.
'Smoking is still one of the leading causes of preventable death in the country,' said the cabinet member for health and communities, Cllr Carol Hart
'We're doing all we can to support people who want to quit as well as protect resident's health from the effects of second hand smoke.'
Smoke free spaces aim to improve people's health by reducing the impacts of smoking. They also de-normalise the habit and reduce smoking-related litter.
'The creation of additional smoke-free public spaces would help to reduce the harmful effects of second hand smoke on the general public,' Cllr Hart continued.
'We will be working in partnership with other organisations, such as district and borough councils in order to help achieve this.
'Children are particularly affected by second hand smoke so there will be a focus on public spaces where children are likely to be.'