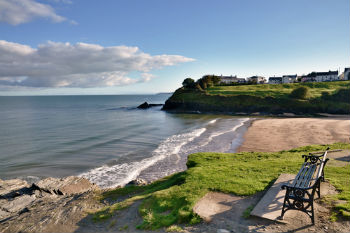 Council leaders in Ceredigion have come under fire after pledging £150,000 to a TV crime drama despite planning £11m cutbacks.
The council has revealed it will help fund the second series of locally filmed detective show Hinterland if the programme is unsuccessful in its bid for a European Grant.
Earlier this month Ceredigion announced plans to slash £150,000 from CCTV funding as part of an 8.4% reduction to its total budget. Further proposals included cancellation of a £44,000 fund for a local swimming pool and an £80,000 reduction to gritting services.
However the local authority said Hinterland's first series generated a £1m economic boost for the local area.
Reacting to the decision, the Taxpayers Alliance said: 'When public finances are so stretched it is totally inappropriate for the council to be funding TV shows.'
Production of the acclaimed TV drama's second series is due to commence in September 2014. Its first series screened on channels including BBC 4.
A council spokesperson said: 'The council is pleased to be in a position to provide this underwriting facility for this successful drama series.
'A study by ARAD Research into the economic impact of Hinterland on Aberystwyth and the surrounding area concluded that the first series generated an economic benefit of just over £1m which was a welcome injection to the local economy, and it's hoped that the economic benefit will be even greater as a result of this second series.'