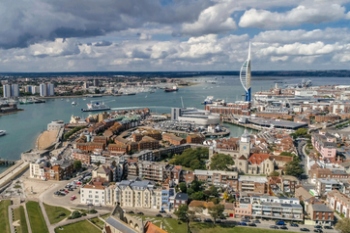 Portsmouth City Council has been forced to absorb the 'phenomenal cost' of running a post-Brexit border control post that is lying unused after a change in the Government's plans.
In April the Government's decided to delay the introduction of physical inspections of fresh meat, fruit, vegetables and plants from the EU.
This decision has meant that Portsmouth International Port's new £25m border control post has been mothballed for the foreseeable future.
Portsmouth City Council leader Gerald Vernon-Jackson warned this has left the local authority having to absorb a 'phenomenal cost'.
The council, which owns the port, took out a £7.8m loan to help pay for the facility. The port estimates it will cost £1m per year to keep the facility running, even while it is not being used.
'The team worked tirelessly to make sure the BCP was completed on time, we raised concerns this was an expensive project, with a difficult timeline, reflected in our funding bid,' said Cllr Vernon-Jackson.
'As a result we are currently £7.8m out of pocket, these running costs would have been covered through a EU infrastructure levy on imports but with the decision to put this on hold, we have no way of recovering the costs and no offer of financial support from the Government.'
'As a council we have been left to foot the government's bill, when budgets are already stretched,' he added.
'We followed their requirements, made sure this would meet their deadlines, and now we are faced with an empty BCP for the foreseeable future and liable for £7.8m plus running costs.'