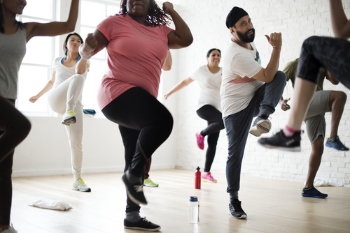 Local authority leaders are urging GPs to prescribe obese patients exercise classes at local leisure centres after research found it could increase life expectancy by nearly four years.
A new report by the District Councils' Network (DCN), produced alongside consultants from the University of East Anglia, revealed that nearly a third of the UK currently does less than 30 minutes physical activity per week.
The report, entitled Fit for the Future, found that prescribing local leisure services to one million inactive people over the next decade could avoid nearly 50,000 preventable diseases and save the NHS more than £300m.
The researchers also calculated that it could provide an economic boost of over £4bn in quality-adjusted life year gains – a unit of measurement used to gauge how health interventions can improve people's lives.
'As we emerge from the pandemic, it is vital we embrace this as an opportunity to get the nation fit and healthy, and to continue protecting and supporting our NHS by preventing illness and disease where we can,' said Cllr Angie Dale, healthy communities spokesperson for the DCN.
'Our new report shows conclusively that local leisure centres can play a vital role in keeping people fit, and prescribing these services to people can increase life expectancy by up to four years.'
Councils are currently the biggest investors in sport, leisure, parks and green spaces, spending £1.1bn per year in England. However, nearly two thirds of the leisure estate is ageing and many facilities are at risk of closure.
As well as calling on GPs to prescribe exercise classes, the DCN urged the Government to invest in local sport and leisure services to address the nation's health challenges.
Cllr Dale added: 'By providing long-term investment and integrating our councils' excellent leisure and wellbeing services into health systems, we can increase life expectancy and tackle growing health inequalities. This is levelling up in action.'