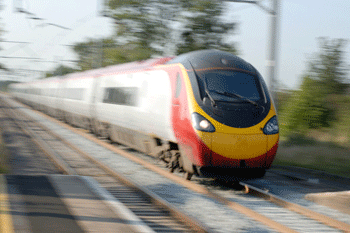 Council leaders have joined a new campaign to ensure the Government goes ahead with HS2 and Northern Powerhouse Rail (NPR).
The Connecting Britain campaign - which has been launched today by political and business leaders - warns the North is being held back by a lack of investment into transport infrastructure.
It argues that improving connectivity from the Midlands to the North would support economic growth, improve productivity and boost jobs and skills.
Sir Richard Leese, leader of Manchester City Council and campaign partner of Connecting Britain, said: 'A green light on HS2 and NPR in full would be a clear signal from the government that it recognises that historic underinvestment in strategic transport infrastructure outside London is a trend that must be reversed if all communities are to be levelled-up and regions rebalanced.
'We will work with the government and the Oakervee Review into HS2, to demonstrate the strength of the economic case for the full and timely delivery of HS2 fully integrated with NPR and other complementary infrastructure schemes in the North and Midlands.'
The Greater Manchester Chamber of Commerce also warned the scrapping of HS2 or NPR would threaten the economic potential of the North.
Paul Hirst, chair of transport and infrastructure for the Northern Powerhouse Partnership, added: 'The Connecting Britain campaign launching today has been set up to make sure the Northern Powerhouse and the Midlands get the connectivity they deserve, creating opportunities for young people to secure the skilled jobs and training our businesses need to thrive.'
However, HS2 will be delayed by several years and is over budget by at least £25bn, transport minister Grant Shapps has confirmed.
Preparatory work has started in London but no actual track has been laid; despite this the cost of the project has risen from £56bn to potentially close to £90bn, and the first phase from London to Birmingham looks set to be open around 2030 rather than the originally planned 2026.
The recently appointed Chairman of HS2 Ltd, Allan Cook, provided a report to the transport secretary on HS2's progress.
Mr Shapps told parliament in a written statement: 'Adjusting by construction cost inflation, the range set out in Allan Cook's report is equivalent to £81 to £88bn in 2019 prices, against a budget equivalent to £62.4bn.