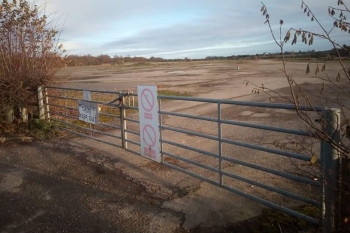 The leader of Test Valley Borough Council has started a petition calling on the Government to rethink plans to house 500 asylum seekers on the edge of Barton Stacey village.
Cllr Phil North said the proposal to place asylum seekers in portacabins on MOD land while they wait for their applications to be processed was 'akin to an open prison'.
He warned that poor accommodation and easy access to the busy A303 could lead to many of the asylum seekers absconding.
Cllr North said: 'An influx of 500 young men in a village with an existing population of just 1,000, would have an overwhelmingly detrimental impact. In other similar facilities this has led to an increase in anti-social behaviour and criminality.
'Test Valley Borough Council has a good track record of supporting the Home Office, including through its active engagement and participation in the Syrian Vulnerable Persons Resettlement Scheme. It is right that this country houses its fair share of genuine refugees and taking them directly from the camps rather than encouraging people smuggling is the right way to do it. It's our fear though, that because these individuals have arrived by nefarious means that there will be significant community tensions.'