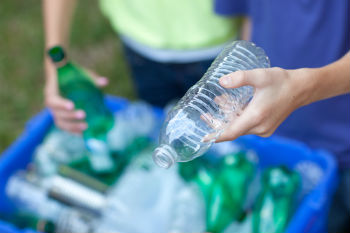 A council in Lincolnshire has announced it will pilot weekly recycling collections at more than 1,500 homes in order to help households reduce their waste.
North East Lincolnshire Council said the trial will affect 1,533 homes in five wards over a 12-week period, beginning at the end of January.
Households in the pilot streets will have a new black wheelie bin for cans and plastic bottles and a large orange recycling bag for paper and card to replace the blue and orange recycling boxes.
These are larger than the current recycling boxes and can hold a lot more. The orange bag also has a flap to use as a lid.
Matthew Patrick, portfolio holder for environment, said the pilot would 'help us learn more about the rubbish people throw away or recycle.'
'It will also help us choose the right vehicle for waste collections,' he added.
'This is a great opportunity for people to help change recycling habits across North East Lincolnshire,' said Steve Beasant, chairman of the overview and scrutiny committee.
'Staff will visit homes to offer advice and gather people's views to see where improvements can be made.
'Once the trial is over, the homes in the pilot areas will revert back to the normal waste and recycling collections.'