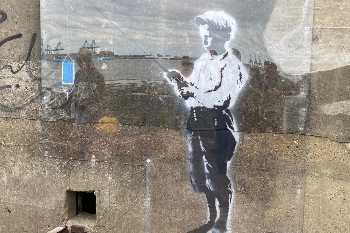 A district council has installed extra security around some graffiti that is thought to be a Banksy.
The mural on the sea wall at Stone Pier in Harwich, Essex is of a boy holding a fishing rod with a blue face mask attached.
It was spotted shortly after the artist confirmed he was responsible for 10 artworks in Norfolk and Suffolk, which are part of his 'A Great British Spraycation'.
Tendring District Council installed security as soon as the mural was found, but has now placed a plastic screen over it.
'Banksy is one of the world's greatest living artists. His works are provocative, thought-provoking and controversial, but also clever, witty and incredibly creative. We are hugely delighted that he has chosen to come to Harwich and leave us with a reminder of his visit,' said council leader Neil Stock.
'We immediately put security in place and have taken further steps to protect this artwork as we await confirmation that it is indeed the latest piece of the artist's "Spraycation" in East Anglia.'
Prof Paul Gough, vice-chancellor of Arts University Bournemouth, has suggested the mural might not be by Banksy.