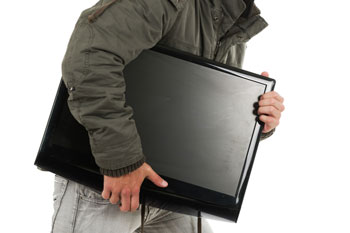 Bailiffs have seized thousands of pounds worth of equipment from a north London council to repay money owed to a resident.
Computers, TVs and printers were removed from a Camden Council office as enforcement officers attempted to recover more than £7,700.
The funds were owed to local hotel owner Stephen Gethin, who has claimed the council failed to pay rent for tenants receiving housing benefit. The High Court recently ruled in Gethin's favour, instructing bailiffs to be sent to the town hall.
However in a bizarre twist, Camden's assistant director of finance is reported to have ultimately paid the enforcement officers over £7,671 in cash at the scene.
Gethin told Ham & High: 'They've owed this money to me for a long time and this was the only way I was going to get it back.
'It's ironic because it's exactly what they do to other residents who fail to pay their council tax or parking fines on time.
'This is giving them a taste of their own medicine,' he added.
A Camden Council spokesman said: 'We can confirm that on Wednesday a High Court enforcement officer attended the town hall to enforce a county court judgement.
'Camden disputes the sums involved and is taking legal advice.
'In the circumstances we do not consider it appropriate to comment further.'