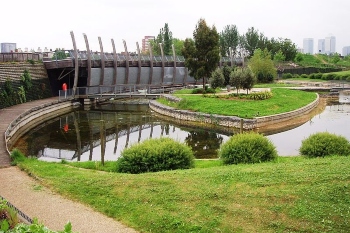 In 2015, Alexia Walenkaki died as a result of a head injury which was caused when a rope suspended from a wooden post collapsed on top of her.
An investigation by the Health and Safety Executive (HSE) found that London Borough of Tower Hamlets Council failed to carry out an annual playground safety check at Mile End Park. It also found the post was made from unsuitable wood that had decayed.
The council pleaded guilty to breaching the Health and Safety at Work Etc. Act 1974 and was fined £330,000 and ordered to pay costs of £6,204.
HSE inspector, Stephron Baker Holmes, said: 'Those who provide play equipment should ensure it is safe for children. The lack of a suitable playground inspection in the period leading up to this incident has resulted in tragic consequences.'
Will Tuckley, chief executive of Tower Hamlets Council, said: 'We are deeply sorry for our part in Alexia's death and our thoughts continue to be with her family.
'Following Alexia's death, we immediately made urgent safety checks of equipment at all council-run play facilities and have brought in a more rigorous system for inspecting and maintaining park play equipment.'