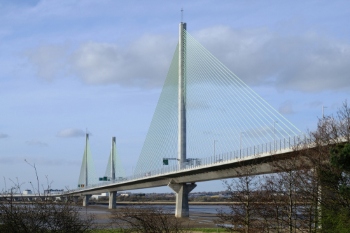 Halton Borough Council has defended its decision to issue 11 fines to one individual in relation to an enforcement scheme on the Mersey Gateway Bridge.
The Traffic Penalty Tribunal (TPT) has upheld an appeal by a motorist who was issued multiple Penalty Charge Notices (PCNs) relating to the Mersey Gateway Bridge and Silver Jubilee Bridge road crossings scheme.
The appeal was initially brought to the tribunal in 2019 by Scrap Mersey Tolls (SMT) campaigner Damian Curzon who argued there were errors in the wording of two penalty charge notices he received for failing to pay the £2 crossing charge on 15 June 2018.
The tribunal adjudicator M. F. Kennedy concluded that the scheme was a road user charging scheme, not a toll, and the use of the word 'toll' on the penalty charge notice was a 'procedural impropriety'.
Halton Borough Council contested the 2019 appeal and says it will be contesting the recent decision to uphold Mr Curzon's appeal.
A spokesperson for the council said: 'We are disappointed with the decision of the Traffic Penalty Tribunal Adjudicator. We believe the decision is incorrect and will be contesting it. Our message remains the same – there is a legal requirement to pay to use the Mersey Gateway Bridge, so please do so and pay on time.
'The Mersey Gateway continues to provide fast, clean, reliable journeys for over 70,000 vehicles a day and we would encourage everyone who takes advantage of this pay their toll/charge on time, by midnight the following day. More than 97% of users are doing this.'