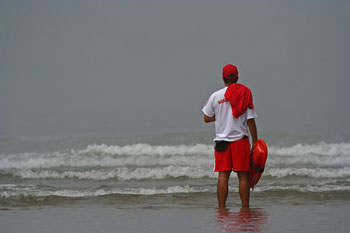 Rother council suggests the deaths of five young men at Camber Sands could have been the result of their 'unfamiliarity' with the sea and deploys lifeguards for the weekend.
The families of the five Londoners who died last Wednesday while visiting the East Sussex beach expressed anger at the fact no action had been taken after a man died there last month.
After initially saying there would be no need to deploy any lifeguards, the council has since accepted an offer from the Royal National Lifeboat Institution (RNLI) to provide 5-6 lifeguards over the Bank Holiday weekend.
'We very much welcome and appreciate the support the RNLI are offering to provide a temporary lifeguard service,' a spokesperson said.
'People are understandably concerned in the light of the tragic incident at the beach this week and this service will provide reassurance to the public in one of the busiest weekends of the year at Camber.'
These kinds of incidents were 'extremely rare' despite the fact that on a fine day around 25,000 people use the beach, the council's first press release said.
The council's initial statement also implied the accident may have happened because the men were from 'outside the area'.
'Although it's too early to draw any conclusions from this latest incident, in recent years we have seen a change in the make-up of visitors to Camber, including more people from outside the area who are not familiar with the sea and the dangers it can pose,' the spokesperson said.
'We are in regular discussion with emergency services and other colleagues to ensure that the measures currently in place are sufficient and identify any additional measures that may need to be taken, either in terms of arrangements at the beach or doing more to educate people of the dangers of the sea.'