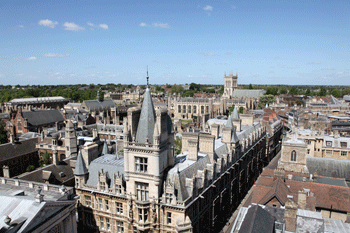 Cambridge City Council has demanded a full independent inquiry into circumstances surrounding recent alleged sexual attacks involving Libyan cadet soldiers.
Council leader, Cllr Lewis Herbert, has warned a government review into the alleged attacks by soldiers at nearby barracks would not be sufficiently thorough and transparent.
About 300 cadets have been sent home early from Bassingbourn Barracks after the allegations and five have been charged.
The former Libyan militiamen arrived in June for a six-month training course as part of a pledge by the Government to help shape the North African country's security forces.
Following the events prime minister, David Cameron, told the House of Commons the Libyans' conduct was unacceptable and said none of the cadets should be granted asylum here.
He said the government programme to train Libya's army would be scrapped and all the trainees deported.
However Cllr Herbert has written to Mr Cameron demanding the inquiry.
He said: 'We do not have confidence that the internal review announced by the government, and led by the Chief of the General Staff, will be sufficiently thorough and transparent.
'We feel it will suffer from limited terms of reference and inadequate objectivity.
'We will be compiling a detailed list of issues the local community wants addressed in an inquiry and we are asking residents to send in their comments to us.'