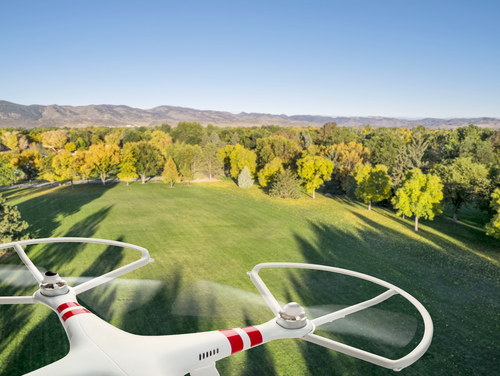 Coventry City Council is considering banning the use of drones on council land due to concerns over privacy and noise pollution.
In recent years the use of drones and other Unmanned Aerial Vehicles (UAVs) has increased, leading to debates over how to regulate the new technology.
A report under consideration by Coventry City Council says that there have been a number of concerns raised over the flying of drones in residential areas and parks.
'The concerns are about the nuisance caused by the noise of drones; privacy due to drones carrying surveillance equipment; and the potential danger they could cause to wildlife, animals and people particularly when landing,' the report states.
The council will discuss the possibility of adopting a Drone Policy that will prevent the use of drones and UAVs on land owned or controlled by the council.
Coventry City Council is also going to discuss the adoption of a Drone Permission policy. This would allow organisations such as the policy to fly drones on council land for a £50 charge.
'As a land owner and operator the council is likely to be held liable for any damage caused to people or property as a result of it allowing the flying of drones in its parks and open spaces,' the report says.
In response, David Dunn, Professor in International Politics at the University of Birmingham, said: 'The decision by Coventry City council to ban the use of drones its parks and on its land shows the growing awareness of the potential dangers from the misuse of drones. Coventry's decision follows that of Leicester City Council and numerous local authorities across the world who have taken action to limit drones use.
'It demonstrates both a local awareness of the problem from first-hand experience and a frustration at the lack of effective central Government legislation and guidelines. Whereas some countries like Sweden have brought in tight restrictions such as a ban on drones with cameras, the UK has been slow to respond to this new technological development.
'Research at the University of Birmingham shows that security officials responsible for the safety of critical infrastructure and crowded places are consented about the threat that the misuse of drones presents. Our research, based on contact with these individuals, calls for greater regulation, registration, licensing and the requirement for insurance of drone use. It has also long called for drone surveillance technology and counter drone measures at airports and other sites.'
Illegal drone activity near Gatwick Airport caused a lot of disruption over the Christmas period with hundreds of flights delayed.