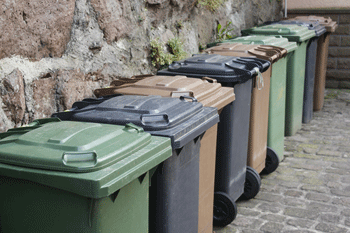 Local residents have hit out at Wirral Council after being asked to choose from having smaller bins or less frequent waste collections.
An online petition – which had more than 1,000 signatures at time of writing – has been launched following a consultation by the council into changes in how domestic waste is collected.
The council is asking residents to comment on having smaller 140 litre bins or keeping the existing bins but only having them collected every three weeks. A new food recycling service would see all food waste collected every week.
The council said it must increase its recycling rate from 36% to 50% by 2020, so 'doing nothing' wasn't an option.
Cllr Bernie Mooney, the council's cabinet member for environment, said: 'By 2020 we need to be recycling 50% of all household waste in Wirral, which means we need to reduce residual waste by 16,000 tonnes.
'If we fail to meet that target we may face fines from the government and the levy we pay for our waste disposal and treatment will rise significantly from the current £15.4m each year.'
Cllr Mooney added that around 40% of rubbish going into residual waste bins is food, so investing in a food recycling collection service is a 'logical' step.