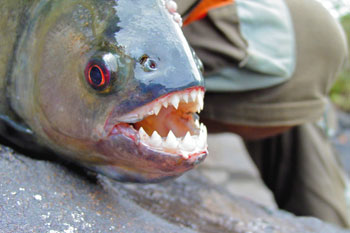 The Environment Agency has been called in to investigate the mysterious presence of two piranha carcasses that were discovered floating in a Doncaster lake.
The unusual discovery in Martinwells lake has prompted some to suggest there may be a link between these predators and a reported drop in duck numbers.
However, the council says it is 'highly unlikely' that the fish were ever alive in the lake.
Gill Gillies, assistant director of environment with the council, said that the fish were probably pets that were placed in the lake.
'The presence of a piranha is somewhat of a novelty so they have since been taken away by the Environment Agency for testing,' Ms. Gillies said.
'In any event we would always strongly advise against anyone paddling or swimming in this or any lake due to the dangers of deep water.'