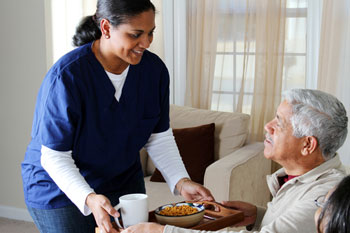 Local authority leaders have described a new support package to protect the care sector this winter as 'positive', but warned that long-term investment was needed to make social care sustainable.
On Friday the Government announced a package of new measures to protect the social care sector from COVID-19. This package includes the expansion of specialist vaccination teams and a £300m fund to help recruit and reward the social care workforce.
The package also includes updated guidance on care home visiting and testing. Each resident is now allowed only three visitors and one essential care giver.
Staff testing will also be increased from two lateral flow tests per week to three as well as a weekly PCR test. Fully vaccinated residents visiting out will be asked to take a lateral flow test on alternate days for two weeks after a visit. Those not fully vaccinated will be expected to isolate following a visit out.
'Throughout the pandemic we have done everything we can to protect the adult social care sector, and the emergence of the Omicron variant means this is more important than ever,' said health and social care secretary Sajid Javid.
'This new funding will support our incredible workforce by recruiting new staff and rewarding those who have done so much during this pandemic.
'Boosting the booster rollout in social care and updating the visiting guidance will help keep the most vulnerable people in our society safe from the virus this winter.'
The Omicron variant has led to infections doubling every 2 to 3 days and estimates by UKHSA of 10,000 cases with increased transmissibility. Minister for care Gillian Keegan commented: 'Vaccination remains our best line of defence and we are going further and faster to ensure social care staff and those receiving care, whether in a care home or their own home, are prioritised for boosters.
'Our priority throughout the pandemic has been the safety of those who are the most vulnerable however we need to balance this with the tremendous benefits that visiting provides.
'These changes are in line with the latest clinical advice and are designed to support our fantastic social care staff in the months ahead.' Cllr David Fothergill, chairman of the Local Government Association's (LGA) Community Wellbeing Board, welcomed the funding but called for long-term investment in the adult social care sector.
'The additional funding is positive, and it is important that it is allocated quickly and be easily accessible so that it can make an immediate impact this winter,' he said.
'Moving forward, adult social care services continue to need significant and sustainable long-term investment – as opposed to short-term cash injections – to make permanent improvements so that people are supported to live the life they want to lead.
'Support with the crucial booster programme is also good to see, and we hope that this will build on ongoing local authority efforts as councils know their communities and providers well and are best-placed to make interventions at a local level.
'Keeping residents safe is a key priority for councils and the visiting measures introduced will hopefully help to slow the spread of the Omicron variant, but a balanced approach is needed with adequate support for care homes and these measures must be kept under close review.'