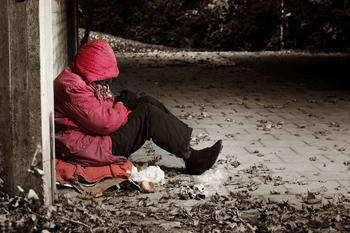 Local authority leaders have welcomed a Government announcement that they will receive over £200m to help rough sleepers but called for a renewed focus on homelessness prevention services.
Housing secretary Robert Jenrick announced on Saturday that councils will receive £203m Rough Sleeping Initiative funding to help people off the streets – an 81% increase from the £112m provided last year.
The Rough Sleeping Initiative was launched in 2018 to help local areas provide tailored services to those living on the streets.
This weekend's funding boost will be used by councils, charities and other local groups to pay for up to 14,500 bed spaces and 2,700 support staff across England.
'Across the country, there are staff and volunteers working tirelessly to make a real difference to the lives of rough sleepers,' said the minister for rough sleeping, Eddie Hughes.
'From providing bed spaces and night shelters, to funding dedicated support staff and medical treatment, today's funding will mean that crucial work to help people off the streets can continue.
'This is part of an unprecedented £750m of Government investment this year to help us reach our goal of ending rough sleeping by the end of this Parliament.'
Cllr David Renard, Local Government Association (LGA) housing spokesperson, welcomed the funding but emphasised that a long-term approach to tackling homelessness was required.
'To prevent homelessness from happening in the first place, councils will need long-term funding issued through multi-year settlements to give them the certainty they need to plan local services,' he said.
'There should also be a renewed focus on investing in homelessness prevention services, ensuring councils have the resources to support households at risk of homelessness, including restoration of welfare funding to at least £250m a year and a review of the Discretionary Housing Payment scheme.'
He added: 'Clear guidance on whether councils can support homeless adults with No Recourse to Public Funds as we move through the roadmap will also help to ensure that everyone who is vulnerable can access help if needed, regardless of immigration status.'