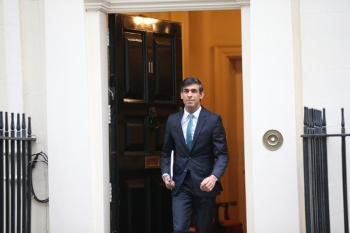 Local authority leaders have welcomed the Chancellor's multi-billion-pound announcement of cost of living payments but called for a 'longer-term solution' to the crisis.
Chancellor Rishi Sunak told Parliament on Thursday that every household in the UK will get an energy bill discount of £400 this October.
He also said that those who were on means-tested benefits would receive a one-off cost of living payment of £650, which will be paid in two lump sums in July and autumn.
Pensioner households who receive the winter fuel payment will receive £300 and disabled people will get a one-off payment worth £150.
The Household Support Fund, which is delivered by local authorities, will also be extended by £500m from October.
'We need to make sure that for those whom the struggle is too hard…and for whom the risks are too great…they are supported,' he told Parliament.
'This Government will not sit idly by whilst there is a risk that some in our country might be set so far back…they might never recover.
'This is simply unacceptable. I will never allow that to happen.'
Responding to the Chancellor's announcement, Cllr James Jamieson, chairman of the Local Government Association (LGA), said that the extra payments would 'help ease the pressure on household budgets this year.'
However, Cllr Jamieson said that longer-term measures were essential to solving the cost of living crisis.
'These measures must be accompanied by a longer-term solution to addressing wider cost of living pressures, which are not going to end any time soon, and reducing the need for further emergency support,' he said.
'Councils and local partners will continue to do what they can to protect those on the lowest incomes against higher costs for food, transport and other essentials and target help to those facing the most complex challenges.
'To reduce the need for short-term crisis support, there needs to be a consensus on how we move forward and build resilience through our wider welfare system, which includes not just benefits but employment support, housing, health and financial inclusion.'
The Resolution Foundation has calculated that twice as much of the £15bn package is going to households in the bottom half of the income distribution as the top half. The think tank estimates that the average gains from today's announcement are £823 across the poorest fifth of households, compared to £500 for the middle fifth of households, and £296 across the richest fifth.
Taking all the three support packages together, the Resolution Foundation calculates that the Chancellor has provided around £1,200 of support to households.
Torsten Bell, chief executive of the Resolution Foundation, said: 'The Chancellor has announced a big and very welcome package of support for households facing fast rising energy bills. It almost doubles the level of energy support to over £30bn, and fills the huge gap in previous announcements with large targeted support for those hit hardest.
'The decision to provide one-off payments this year to poorer households, pensioners and those with a disability is a good attempt to target those with higher energy bills – although the relative lack of support for larger families stands out.
'The Chancellor's commitment to uprate benefits next April in line with very high inflation also offers important security for lower income households that their living standards will be protected from surging prices tomorrow as well as today.'