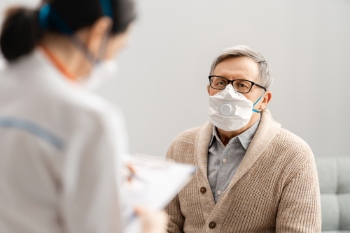 Local authority leaders have welcomed a multi-million-pound funding boost from the Government which is aimed at supporting an over-stretched adult social care workforce.
Over the weekend, the Department of Health and Social Care (DHSC) announced that £120m would be made available to councils to help them provide additional care staff where shortages arise.
The COVID-19 pandemic has led to staff absence rates rising in care homes and among home care staff.
As well as paying for more care staff, the funding pot will support administrative tasks so skilled staff can focus on providing care.
It will also help existing staff to take on additional hours if they wish with overtime payments or by covering childcare costs.
'This funding will bolster staffing numbers in a controlled and safe way, whilst ensuring people continue to receive the highest quality of care,' said health and social care secretary Matt Hancock.
'Since the start of the pandemic, we have taken steps to protect care homes, including increasing the testing available for staff and residents, providing free PPE and investing billions of pounds of additional funding for infection control.
'Help is on the way with the offer of a vaccine, with over 40 per cent of elderly care home residents having already received their first dose.'
Responding to the announcement, Cllr Ian Hudspeth, chairman of the Local Government Association's Community Wellbeing Board, said: 'Extra funding to fill staff shortages and free up more experienced colleagues to focus on providing care directly will help with the immediate impact of the virus.
'Social care has been on the frontline throughout the coronavirus pandemic and our dedicated staff rightly need as much support as possible during this incredibly challenging period.'
Cllr Hudspeth also called for long-term funding to make the care sector more sustainable beyond the pandemic.
'Going forward, all of those using and working in social care need a sustainable, long-term funding solution to how we provide care and support, which allows people to live the lives they want to lead,' he said.
'We look forward to Government bringing forward its proposals at the earliest possible opportunity.'
Professor Martin Green, chief executive of Care England, commented: 'We want to work with the DHSC to ensure that the Staff Capacity Fund delivers to the front line and is suitably flexible to reflect the crisis whereby providers are struggling with staff illness and absenteeism in the same way as their colleagues in the NHS are.
'Staff are our most precious resource and we want to do all that we can to support them especially in these incredibly difficult times'