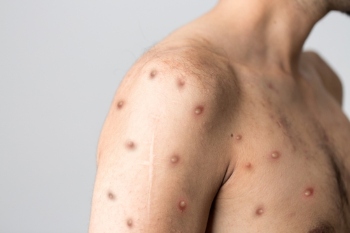 Local authority leaders have urged everyone to be aware of any unusual rashes or lesions as 36 additional cases of monkeypox are detected in England.
Identified by the UK Health Security Agency (UKHSA), the latest cases bring the total number of monkeypox cases confirmed in England since 7 May to 56.
The virus does not usually spread easily between people, according to the UKHSA, but it can be passed on through close person-to-person contact or contact with items used by a person who has monkeypox, such as clothes, bedding or utensils.
Monkeypox is usually a self-limiting illness and most people recover within a few weeks.
Dr Susan Hopkins, chief medical adviser, UKHSA, said: 'Alongside reports of further cases being identified in other countries globally, we continue to identify additional cases in the UK.
'Thank you to everyone who has come forward for testing already and supported our contact tracing efforts – you are helping us limit the spread of this infection in the UK.'
Dr Hopkins continued: 'Because the virus spreads through close contact, we are urging everyone to be aware of any unusual rashes or lesions and to contact a sexual health service if they have any symptoms.
'A notable proportion of recent cases in the UK and Europe have been found in gay and bisexual men so we are particularly encouraging these men to be alert to the symptoms.'
Responding to the latest cases, Cllr David Fothergill, chairman of the Local Government Association's (LGA) Community Wellbeing Board said: 'Local public health teams are working closely with the UK Health Security Agency and others to tackle a very small number of cases of Monkeypox in local communities.
'Surveillance, contact tracing, accurate information from trusted sources, vaccine, treatment and support are key to stop the spread of this outbreak. The outbreak has highlighted the important health protection work of local authority commissioned sexual health services.
'We will work closely with them and our commissioners throughout this outbreak to ensure the best response to both monkeypox infections, and minimise disruption to other important sexual health services.
'As the virus spreads through close contact, we are urging everyone to be aware of any unusual rashes or lesions and to contact NHS 111 or their local sexual health service if they have any concerns.'