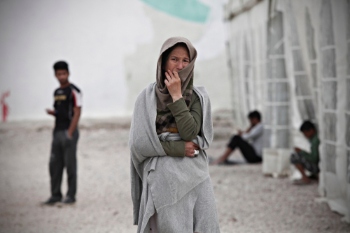 Local authority leaders have declared their readiness to work with the Government to help design a new scheme for resettling refugees from Afghanistan.
The Government has announced a new resettlement scheme to help 20,000 Afghan nationals take refuge in the UK in the wake of the Taliban's takeover.
The scheme will see 5,000 Afghans who are at risk due to the current crisis, resettled in its first year. Priority will be given to women and girls, and religious and other minorities.
Commenting on the scheme, home secretary Priti Patel said: 'We will not abandon people who have been forced to flee their homes and are now living in terror of what might come next. The Afghan citizens' resettlement scheme will save lives.'
Cllr James Jamieson, chairman of the Local Government Association (LGA), which represents councils across England and Wales, said that local authorities across the country 'stand ready' to support the resettlement programme.
'We are all saddened to see the tragic scenes from Afghanistan and our hearts go out to the Afghan people facing this humanitarian crisis. Councils have a proud history of supporting efforts to protect and support refugees and want to support the resettlement of those fleeing Afghanistan,' he said.
'They stand ready to work with government to design any new resettlement scheme, so it ensures new arrivals get the support they need to settle into their new communities and considers ongoing pressures from other existing schemes.'
Individual local authorities have also reacted swiftly to the Government's announcement and declared their readiness to support refugees in their local areas.
Glasgow is currently providing a safe haven to 62 refugees fleeing Afghanistan and the city council said it stands ready to assist other people evacuated as part of the humanitarian effort.
Ashford Borough Council has also identified accommodation for three households but are looking to increase this to take between five and 10 families.
Cllr Gerry Clarkson, leader of Ashford Borough Council, said: 'We are seeing a humanitarian catastrophe unfolding before our very eyes in Afghanistan. People there are in dire need of urgent assistance and Ashford is determined to do our bit to help.
'We must open our hearts to these people and with the experience we have gained welcoming and integrating our Syrian friends into local communities, no-one in the UK is better placed to give these people a safe haven and a new start.'
Liverpool City Council has said that it is in the process of working with partners to identify suitable accommodation in the city, and also clarifying the terms of funding arrangements with the Government.
The leader of Bath & North East Somerset Council Cllr Kevin Guy has also said that they 'stand ready' to support Afghans fleeing the Taliban. The council highlighted the fact that it has excellent partnerships with local charities who can provide support to refugees.
A number of councils are also appealing to private landlords to come forward to help the resettlement effort.
Image: Alexandros Michailidis / Shutterstock.com