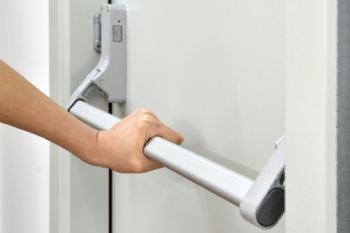 Building owners and managers of high-rise and multi-occupied buildings are to be held to account for the safety of their residents thanks to new legislation.
The Home Office is today introducing a new Bill to improve fire safety in buildings in England and Wales. It aims at clarifying that a building's owner is responsible for ensuring the property is safe.
The Bill, which will amend the Fire Safety Order 2005, states that a building's owner must manage and reduce the risk of fire for the structure and external walls of the building, including cladding, balconies and windows.
The proposed Fire Safety Bill also states that the owner is responsible for ensuring entrance doors to individual flats that open into common parts are safe. This clarification will empower fire and rescue services to take enforcement action and hold building owners to account if they are not compliant, the Government says.
'We remain committed to implementing the recommendations made following phase one of the Grenfell Tower Inquiry, and the Government has already made major reforms to building safety,' said minister for security James Brokenshire.
'Today's bill will help bring about meaningful change to improving building safety.'
The chair of the National Fire Chiefs Council Roy Wilsher commented: 'I am pleased to see the announcement of the new Fire Safety Bill. We have been calling for additional powers since 2017 and these changes should contribute to the public feeling safer in their homes.
'We look forward to seeing additional supportive measures to assist fire and rescue services, identify different types of cladding and take appropriate measures.' Lord Porter, Local Government Association building safety spokesman said that the bill was 'an important step in the right direction' but stressed that more needs to be done.
'While councils are leading local efforts to support communities through the coronavirus crisis, the risk to residents in buildings with dangerous cladding systems remains,' he said.
'This Bill is a positive step but needs to be backed up by further effective powers and sanctions, which we have been promised in the forthcoming Building Safety Bill, and sufficient funding to carry out the necessary inspections and enforcement activity.'