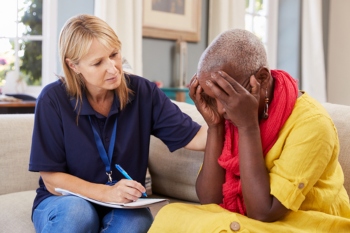 Local authority leaders have urged the Government to ensure that councils' mental health services receive the funding they require to meet 'unmet demand' in response to a landmark reform of mental health laws.
The Government today published the long-anticipated Reforming the Mental Health Act white paper, which builds on the recommendations made in 2018 by Sir Simon Wessely's Independent Review of the Mental Health Act.
The white paper stressed the importance of empowering individuals to have more control over their mental health treatment. It also promises to deliver parity between mental and physical health services.
It also aims to tackle racial disparities in mental health services, better meet the needs of people with learning disabilities and autism, and ensure appropriate care for people with serious mental illness within the criminal justice system.
Health and social care secretary Matt Hancock said the reforms would reform the 40-year-old Mental Health Act and 'bring mental health laws into the 21st century.'
'These reforms will rightly see people not just as patients, but as individuals, with rights, preferences, and expertise, who are able to rely on a system which supports them and only intervenes proportionately, and which has their health and wellbeing as its centre,' he said.
'This is a significant moment in how we support those with serious mental health issues, which will give people more autonomy over their care and will tackle disparities for all who access services, in particular for people from minority ethnic backgrounds.'
The Government will now consult on a number of proposed changes, including the introduction of statutory 'advance choice documents' to enable people to express their care wishes while they are well, and implementing the right for an individual to choose a nominated person who can look after their interests when they are unwell.
The consultation will also look at expanding the role of independent mental health advocates and piloting culturally appropriate advocates so patients from all ethnic backgrounds can be better supported to voice their individual needs.
There will also be consultation on measures to ensure that neither autism nor a learning disability are grounds for detention for treatment, and improving access to community-based mental health support.
Commenting on the white paper, Professor Sir Simon Wessely said: 'Since the introduction of the Mental Health Act back in 1959 attitudes towards mental illness have changed dramatically. It was time for our legislation to catch up, so two years ago I presented my recommendations to modernise the Mental Health Act, so that it works better for those it protects. Today the Government is taking the next steps to making these changes a reality.
'The Mental Health Act white paper proposes changes which address amongst others rising rates of detention under the act, the disproportionate number of BAME individuals detained, and allows the patient voice to be heard better than in the past.
'I welcome today's announcement and look forward to working closely with the Government and all the parties during the consultation.'
Responding to the publication of the white paper, Cllr Ian Hudspeth, chairman of the Local Government Association's (LGA) Community Wellbeing Board, said that councils 'strongly support' the objective to give people a stronger say in their treatment.
Cllr Hudspeth also called for more funding for local mental health services.
'Councils play a significant role in mental health, both in terms of its statutory duties under mental health legislation and supporting treatment and recovery,' he said.
'The challenges with the current Act are also indicative of a system that is under strain because of increased demand and reduced funding. Any reform of the Mental Health Act needs to include ongoing funding for councils' mental health services, so they can continue to invest in effective support to meet existing, new and unmet demand.'
The mental health charity Mind also welcomed the publication of the white paper and said this was just the beginning of a 'long overdue process' of reform.
'We are pleased the Government has accepted the majority of the recommendations made in the Independent Review. This is just the beginning of what is now a long overdue process,' said Sophie Corlett, director of external relations at Mind.
'At the moment, thousands of people are still subjected to poor, sometimes appalling, treatment, and many will live with the consequences far into the future. Our understanding of mental health has moved on significantly in recent decades but our laws are rooted in the 19th century. Change on the ground cannot come soon enough.'
'It is reassuring to see that many of Mind's concerns – and those of the people with experience of the Mental Health Act who we supported to feed into the Review – have been heard,' she continued.
'We must now see as many people as possible with experience of mental health problems take part in the public consultation process, to make sure their voices and experiences are at the heart of reforms.'