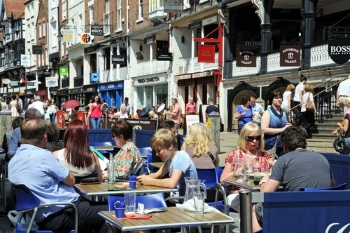 Local authority leaders have called on the Government to introduce a permanent but locally led pavement licensing regime for cafés and bars.
In order to help high streets weather the pandemic, the Government introduced a temporary pavement licensing regime through the Business and Planning Act 2020.
The temporary regime was based on a fast-track application process and reduced fee level to support hospitality businesses hit hard by measures aimed at fighting the spread of COVID-19.
The Local Government Association (LGA) has said that councils support the move to create a permanent pavement licensing regime, but that key changes are needed to reflect the fact that there is no longer a national emergency.
The LGA called for new legislation that would provide councils with better enforcement powers to take actions where businesses are flouting the rules, for example by blocking pavements, and ensure councils are able to set fees at levels that cover administrative costs.
The LGA also said there should be a longer application and determination period to give residents and other stakeholders more time to give their views, for example where there are concerns about noise.
Cllr Nesil Caliskan, chair of the LGA's Safer Stronger Communities Board, said: 'Councils supported the temporary scheme, and worked hard to help hospitality businesses reopen, including relaxing requirements and making changes to roads and pavements to enable pubs, cafes and bars to operate outside safely with more outdoor seating.
'Managing the impact of a permanent regime on nearby residents is a priority for councils, but we are no longer in a national emergency, and we need to make sure the long-term approach to pavement licensing better balances the needs of local businesses and residents.
'Councils are urging government to ensure residents have time to feed into decisions that affect them and provide adequate enforcement powers to address concerns or risks linked to licences.
'A permanent locally-led regime with these additional tools for councils would enable them to continue supporting local businesses and provide a welcoming, vibrant local hospitality offer for residents and visitors.'