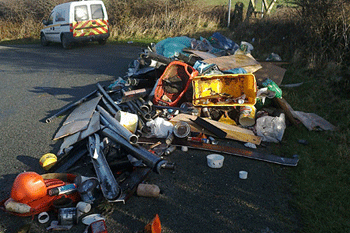 Local authority leaders have called for fly-tipping fines to be increased 'significantly' as part of the battle against waste crime.
The Local Government Association (LGA), 158 local authorities and 10 professional bodies have co-signed a letter to the Sentencing Council which argues that current sentences for fly-tipping fail to act as a deterrent. They warn that almost 20,000 incidents of fly-tipping occur each week in England.
The Sentencing Guideline for Environmental Offences sets out a 12-step process to determine the sentence for a fly-tipping offence. A deliberate offence designated to incur 'minor' environmental harm brings with it a fine with a starting point of Band F, which is 600% of weekly earnings.
Based on average UK earnings, this should amount to over £3,000, but from the 2,671 court fines issued in 2019/20, the total value of these was £1,170,000 – an average of £438 per fine.
'Councils are working tirelessly to counter the thousands of incidents every year and are determined to crack down on the problem. However, prosecution requires a high threshold of proof and even when found guilty, the current fines fail to act as a deterrent,' said Cllr Darren Rodwell, the LGA's environment spokesperson.
'Fly-tipping currently costs local taxpayers almost £50m a year to clean up which could be better spent on other vital services in our communities, but until the fine matches the crime, the burden will continue to fall on residents.
'We are eager to work with government to update its sentencing guidelines to ensure that those caught and prosecuted for fly-tipping receive significant fines that help to offset the huge costs to councils and ensure they never offend again.'