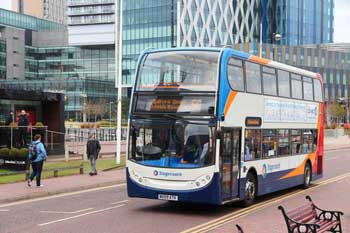 Councils must be allowed to control bus services in their areas, according to local government leaders.
The demand by the Local Government Association follows the latest Government figures showing the number of people making journeys by bus has fallen to their lowest level in more than a decade.
The association's polling shows most people want councils to decide how bus services are provided in their local area.
It says investing in bus services can provide a lifeline to older and vulnerable people and it is also concerned that the decline could cause increased congestion and poorer air quality.
LGA Transport spokesperson David Renard said: 'The continuing decline in bus journeys emphasises the need to protect bus services and for councils to be able to invest in funding subsidised routes.
'Not only will this make sure we can provide bus services to those who rely on them, but it can also help to reduce congestion and improve air quality by reducing the number of vehicles on our roads.
'As our polling also shows, the vast majority of residents want to see councils take control over how bus routes operate in their local area.'