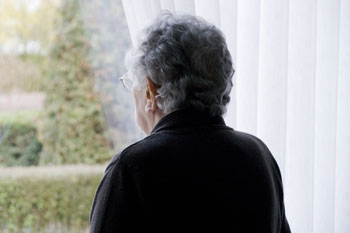 The ability of one in four older people to do everyday activities has worsened during the pandemic, research from the charity Age UK has revealed.
Age UK and the Local Government Association (LGA) has called on the Government to commit to concrete action in the Queen's Speech today to expand the provision of social care in England as the charity's research reveals the impact of the lockdown on older people.
New research has revealed that 42% of over 60s in the UK who had difficulty walking up and down the stairs before the first lockdown in March 2020 reported that this activity had become more difficult.
More than a third (36%) of over 60s in the UK who had difficulty showering, having a bath or washing before the first lockdown said that this activity had become more difficult over the last year.
The charity also found that more than two in five (43%) of over 60s in the UK who had difficulty preparing and cooking food before the first lockdown reported this activity had also become more difficult.
'It's really sad that the pandemic has taken such a toll on the mobility, confidence and capacity of millions of older people to live independently without extra support,' said Caroline Abrahams, charity director at Age UK.
'Specialists in older people's health warned that this was likely to happen after months of enforced isolation, inactivity and lack of stimulation and, unfortunately, our new analysis shows they were absolutely right.
'The inevitable consequence of this pandemic related damage is that older people's demand for social care is set to go up quite markedly, beyond what would otherwise have been expected.
'What matters now is that the Government recognises this is happening and makes the extra investments and reforms needed to beef up and expand our care services so they can meet this growing need.'
She continued: 'With the horrors visited on care homes by COVID-19 and the heroism of our underpaid care workers still fresh in all our minds, it is more important than ever that the Prime Minister "fixes social care".
'A clear statement to this effect in the Queen's Speech would give us hope that he and his Government really do intend to follow through this year.'
Responding to Age UK's research, Cllr Paulette Hamilton, vice chair of the Local Government Association's (LGA) Community Wellbeing Board, said: 'Social care has been on the frontline throughout the pandemic and councils have been doing all they can to support older people, despite the care and support system experiencing intense pressures over the past year.
'Carers, both paid and unpaid, have done a phenomenal job in very challenging circumstances to keep people of all ages safe and well. There were already rising levels of unmet and under-met need in social care prior to coronavirus, which have been exacerbated further.
'We need to see the Queen's Speech finally set out the plans we have been waiting for and make good on the Prime Minister's promise to 'fix social care', once and for all.'