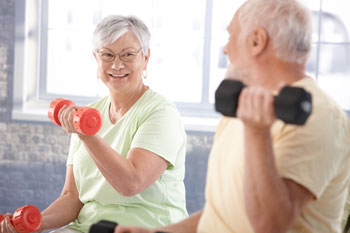 Local authority leaders are backing a new campaign to help the 15 million people who live with one or more long-term health conditions in England do more physical activity.
Sport England has launched the We Are Undefeatable campaign with 15 leading health and social care charities to help those with conditions such as diabetes, cancer, arthritis and Parkinson's 'build physical activity into their lives'.
One in four people in England live with a long-term health condition, and they are twice as likely to be inactive despite evidence that being active can help manage many conditions and help reduce the impact and severity of some symptoms.
'We are very proud to support our charity partners in delivering this new campaign because we know with the right support, sport and physical activity has the ability to change the lives of people living with long-term health conditions for the better,' said Sport England chief executive Tim Hollingsworth.
'This campaign forms part of a longer-term drive by Sport England to change cultural and social norms around long-term health conditions and physical activity.'
Juliet Bouverie, chief executive of the Stroke Association and lead campaign spokesperson, commented: 'People want to be more active because it improves their mood and wellbeing.
'I'm hugely excited about helping more people living with a health condition feel that physical activity is possible, with lots of ideas about the ways that you can keep moving.'
Cllr Gerald Vernon-Jackson, chair of the Local Government Association's Culture, Tourism and Sport Board, said: 'Across the country, councils are developing exciting and innovative programmes to encourage older people, including those with long-term conditions and disabilities, to access physical activity.
'Council services, such as leisure centres and parks, have a key role to play in helping people with long-term conditions keep active and well. They also help to reduce NHS and social care spending, prevent loneliness and improve health and wellbeing.
'Councils want to continue providing their residents with inclusive facilities to stay active. It is vital that the Government uses the upcoming Spending Round to give councils financial certainty so they can plan for the future and meet the needs of their residents.'