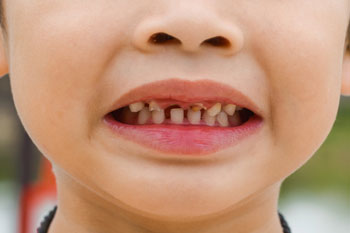 Council leaders have called for immediate action to tackle sugar consumption after new figures showed more than 45,000 teenagers and children had teeth extracted in hospital last year.
The Local Government Association says the figures – up by 18% in the past six years – are likely to reflect the excessive consumption of sugary food and drink as well as poor oral hygiene.
They cover tooth decay which is so serious the extraction has to be undertaken in a hospital under general anaesthetic rather than a dentist.
The LGA has long called for the measures to reduce sugar intake, such as reducing the amount in soft drinks and introducing teaspoon labelling on food packaging.
It has also demanded to have a say in deciding where revenue from the soft drinks levy – which has raised £154m since its introduction earlier this year – is spent.
It says the Government must reverse the £600m in reductions to councils' public health grants which they use to fund oral health programmes and tackling childhood obesity.
Ian Hudspeth, chairman of the LGA's Community Wellbeing Board, said: 'This trend shows there is a vital need to introduce measures to curb our sugar addiction which is causing children's teeth to rot.
'There must be a reinvestment in innovative oral health education so that parents and children understand the impact of sugar on teeth and the importance of a good oral hygiene regime.'