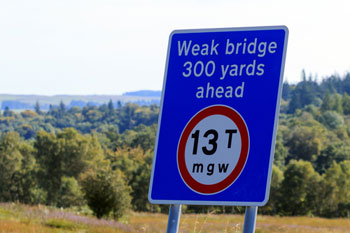 The number of substandard road bridges managed by councils across Great Britain is increasing, new research shows.
According to the latest survey by the RAC Foundation, local authorities in England, Scotland and Wales have identified 3,105 bridges - structures over 1.5m in span – as being substandard.
This was 1.6% up on the 3,055 figure twelve months before. Councils responding to the survey are responsible for maintaining 71,656 bridges, meaning that 4.3% of the inventory is substandard.
Substandard means unable to carry the heaviest vehicles now seen on British roads, including lorries of up to 44 tonnes. Many of the substandard bridges are subject to weight restrictions. Others will be under programmes of increased monitoring or even managed decline.
However, councils reported that, at the time they responded in Autumn 2020, 10 bridges across Great Britain had fully collapsed in the previous 12 months. A further 30 had partially collapsed.
The RAC Foundation said that, despite these failures, the analysis also shows an apparent large decline in the number of bridges being assessed for (scour) damage caused by river flow.
Kevin Dentith, chair of the ADEPT National Bridges Group, said: 'The serious flooding we have just experienced across England means bridges with foundations in watercourses will have again been subjected to scouring. Bridge owners should satisfy themselves that appropriate action is in place to ensure the more susceptible bridges are protected.
'As someone who has been promoting scour assessments at national conferences, webinars and advising Highway England with the BD97/12 update it is worrying that whilst the industry knows scour is the main cause of bridge collapse the survey shows the number of scour assessments has dropped so significantly where it should be increasing.'
For more on this article, visit Highways Magazine.