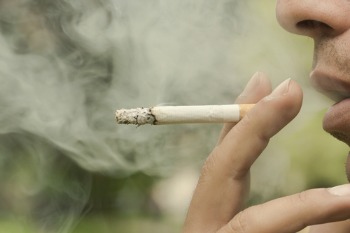 A beach in Pembrokeshire is set to become the first in Wales to be smoke-free.
The voluntary ban at the beach in Little Haven - which also applies to e-cigarettes - has come into effect today, National No Smoking Day, and is for a trial period of 12 months.
Launching the ban, similar to one already in operation for play areas throughout Wales, Pembrokeshire County Councillor Huw George, said: 'We take public health very seriously.
'We want to do as much as we can to protect our children from smoking and to promote a health and well-being environment for all.'
Thirty-five pupils from nearby Broad Haven primary school were taking part in the launch - representing the number of children who take up smoking every day in Wales.
A survey by YouGov in 2015 for ASH Wales revealed that the majority of Welsh adults now believe that smoking should be banned in communal recreational spaces such as parks and beaches.
Cllr George stressed the ban was voluntary and no penalties would be enforced for ignoring it. Anyone breaching it would be approached and politely requested not to smoke.