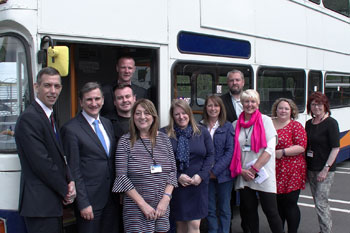 Portsmouth council has backed a project to convert a double-decker bus into a homeless shelter.
The city council announced on Friday that it would support the Rucksack Project's plans to install beds, showers, a kitchen and toilets in the vehicle.
Once it is converted the bus will be given to a charity which would use it to provide extra beds for the homeless in Portsmouth.
'It is fantastic that Portsmouth City Council is supporting this project and their help takes us a big step closer to realising our vision for the bus,'said Joanne Vines, founder of the Rucksack Project.
Cllr Donna Jones, the council leader, said: 'We wanted to learn more about the project and whether it was something we could help fund but when we spoke to Joanne she said the best support we could give is by paving the way for its use by helping find a location and supporting any necessary applications.
'I'm delighted we are able to support a project that will provide extra beds to homeless people in Portsmouth and reduce the need for rough sleeping in the city.
'Homelessness is an issue we take extremely seriously and have recently made improvements to the support available to people by bringing our substance misuse and homelessness support provisions together.
'The solutions aren't always easy in supporting homeless people into long-term accommodation and can take time.
'But we are absolutely committed to ensuring people from the city of Portsmouth get a first-class service to help them through their difficult time and into a secure accommodation to improve the outcomes for the rest of their lives.'