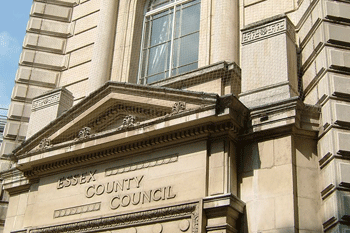 A council has come under fire for 'upsetting' swastikas engraved on its County Hall building.
The symbol, which was adopted by the Nazis but dates back to the Bronze Age, is carved four times above an entrance to Essex CC's HQ.
A Freedom of Information (FoI) request has asked the council why the symbols are there.
The request read: 'It's potentially offensive and upsetting to those who lost loved ones in the war or those who fought for their country.'
Essex's County Hall was built between the late 1920s and 1939.
The council has declined to comment until it has answered the FoI but a spokesman has previously explained that the symbol used to be one of good luck.
Photo: flickr/greenacre8