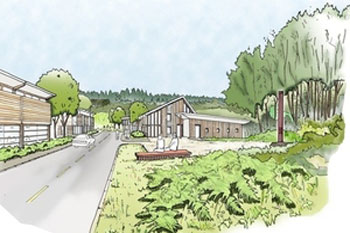 Approval has been given for a £100m regeneration programme to transform a former mining area in the Forest of Dean.
Forest of Dean District Council has approved plans for a 'once in a generation opportunity' to unlock investment and create 1,000 new jobs.
The Homes and Communities Agency has been given planning permission to build a new access road, college facility, 195 new homes, a new hotel, employment and business space.
David Warburton, HCA head of area, said: 'This decision will help to bring huge benefits to the Forest of Dean for generations to come and is a massive boost for the area. Local people and councillors have supported proposals for the regeneration of this former mining area for years. Their continued support has been demonstrated by their strong backing of the proposals.'
Leader of Forest of Dean district council, Patrick Molyneux, said the decision would end 'uncertainty' for the Cinderford area.