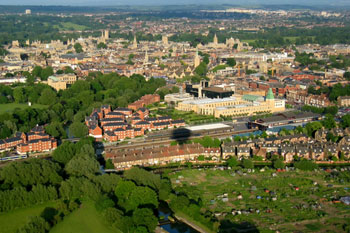 A landlord accreditation scheme in Oxford is 'discriminatory and unlawful', a landlord association has claimed.
All landlords of houses of multiple occupation are required to obtain a licence, in order to rent out their property lawfully.
In Oxford, private landlords accredited by the council are able to obtain a longer HMO licence than landlords who lack the accreditation, even if landlords are able to demonstrate expertise in alternative ways.
According to the Residential Landlords Association (RLA), this has created an unfair situation because it provides those accredited landlords with financial and other benefits.
The RLA has written to Oxford City Council arguing that the scheme breaches the EU Service Directive, which clearly states that accreditation and licensing 'cannot be provided in a way which discriminates based on country of establishment'.
'It is very concerning that there are so many apparent illegalities in Oxford City Council's accreditation scheme,' said David Smith, policy director for the RLA.
'The RLA strongly urges the local authority to review the scheme and would welcome the chance to meet with council representatives to discuss our concerns further.'
The council said it was 'disappointing' the RLA had not chosen to meet with them to discuss their concerns.
Ian Wright, head of regulatory services and community safety at the council, said: 'We received a letter from the RLA and responded on 23 April offering a meeting to discuss the matters raised. It is disappointing that the RLA has chosen to issue a press release before meeting with us, but we are obviously still happy to meet with them.
'Our HMO licensing scheme aims to protect tenants and ensure their homes are in good repair and meet fire, gas and electrical safety standards. We developed the system following lengthy consultation with local landlords, who requested that we reward landlords who do more to look after their tenants with lower fees and longer licences. We took these comments on board when we designed the system.'