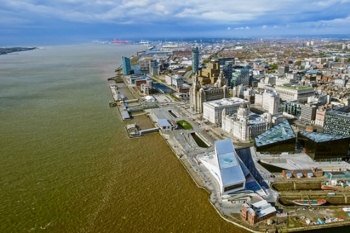 The Labour Party has announced plans to invest £3.5bn into the Mersey Tidal Power Project as part of a 'green industrial revolution' to give the North an economic boost.
Jeremy Corbyn is set to make the announcement today during a visit with the Mayor of Liverpool City Region, Steve Rotherham.
The Mersey Tidal Power Project aims at harnessing the power of the River Mersey and Liverpool Bay to produce renewable energy.
The Liverpool City Region estimates that Mersey Tidal could power up to a million homes or 500 football stadiums.
Mr Corbyn's announcement forms part of Labour's plans to tackle the North-South economic divide with a green industrial revolution, which aims to deliver 400,000 new jobs.
'Labour is looking to the future with plans to ramp up investment in exciting projects like the Mersey Tidal Power Project, which will kick-start Labour's green industrial revolution, power up the north and create thousands of new jobs,' Mr Corbyn will say.?